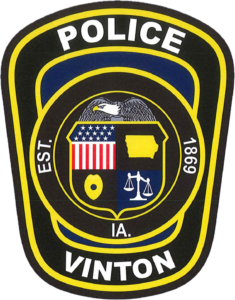 Welcome to the Vinton Police Department web page. My name is Ted W. Paxton and I am honored to be your Police Chief. Our web page was designed to provide our citizens and visitors with information about the Vinton Police Department, important information concerning public safety in our community, and to improve communications between the Vinton Police Department and the community.
As Chief of Police, I have the responsibility of ensuring that our community is provided with the best law enforcement and public safety services possible. Fortunately for me, I work with a very dedicted and enthusiastic staff that understands the definition of community service. Our goal is to exceed community expectations by taking the extra steps above and beyond what is expected.
I understand that in order to have a successful law enforcement agency there must be a shared
purpose between the police department and the community. As your Police Chief, I am dedicated to implementing this shared purpose and developing the most accountable and successful law enforcement agency possible. With that being said, I challenge the citizens of Vinton to help us maintain public safety through being a good neighbor and an active member of our community.
Remember if you see something Say something.
Thank you for taking the time to visit our website and for your continued partnership with our agency.
Chief Ted W. Paxton